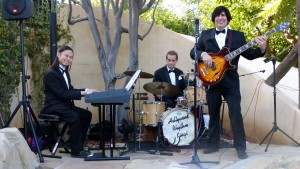 Hollywood Rhythm Kings are experienced, professional musicians. As soon as you hear our samples, we believe the difference will be immediately apparent; you will hear the same top-level performance at your special event. The National Endowment For The Arts featured HRK in a recent series of concerts of music from the 20's and 30's.
We guarantee to provide the utmost professional standard. We show up ahead of time, looking & acting professionally, providing all the necessary equipment needed for our performance. We have been in business for over 13 years, performing at more than 1100 events. It is possible that we have already played at the location where your event takes place!
We know what it takes to provide just the right music for your event, and all the aspects associated with it. For all these reasons our rates might appear slightly higher than the cheapest music solutions available such as hiring students, non-professional musicians, DJ / boom box option, etc. We believe, however, that we offer reasonable and competitive rates for the highest caliber of music making provided by our group.
Based as the classic rhythm section of piano, bass and drums, and male vocals we can also add additional vocalists, guitars, saxophones, horns and more, depending on your needs. We play jazz- from background to danceable, from Dixieland to Miles Davis, 20's, 30's, 40's Era Swing to Smooth Jazz into today, along with Pop, Classic Rock and Blues. We love what we do, and we take pride in playing music for people! The countless number of positive comments from our clients speak for themselves.
Martin Blasick – Bass and vocals
Kerry Crutchfield – Drums and backing vocals
George Woo – Piano and vocals
Bill Keis – Piano
Need more than a trio? Ask us about the great singers and instrumentalists we love playing with.
CBS Studio Center
Disneyland Entertainment
Harrah's Casino
I.C.M.
La Costa Resort
Little Potato Company, Canada
Mattel
M Resort & Spa
USS Midway
Pepperdine University
The Queen Mary
Trump National Golf Course